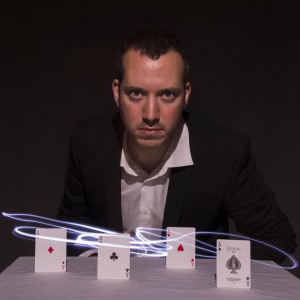 Stephen Barry is a multi award winning magician, mind reader, hypnotist and pick pocket who shatters all the cheesy clichés of a typical magician.
​
His performance style, sleight of hand, and audience interaction has made him a favourite amongst VIPs and celebrities.

Right in front of your eyes Stephen will make the impossible, possible and give guests an experience they will never forget. He adapts his style, to offer a bespoke service to each of his clients.  His performance is suitable for any kind of event and for any age group. Here are just a few ideas of how Stephen can work for you.


Magic is the perfect ice breaker for a wedding reception. Stephen will mingle with the guests performing miracles. The gasps, the laughter, the applause and the shared sense of wonder will entertain your friends and family, making the party atmosphere even more magical.
​
Stephen can perform on stage at your next dinner party. He can provide a cabaret act in which your guests become the stars of the show.​

Do you have a new product to launch or want more people to know about your company and services? Stephen can be booked to attract a mass audience to your stand at your next trade show.

ANY event, ANY number of guests, ANY venue…

Stephen Barry will make it truly unforgettable.

Stephen Barry wowed guests and the 3rd annual British Restaurant Awards, which took place on the 5th of June in London. Stephen entertained guests upon arrival, bringing an extra touch of magic to the evening.

To find out more, visit Stephen's website and be sure to check out his social media handles below!

Facebook| Twitter | Instagram | YouTube